What is Dysphagia?
Dysphagia is the medical term used to describe difficulty swallowing. Dysphagia includes difficulty starting a swallow (called oropharyngeal dysphagia) and the sensation of food being stuck in the neck or chest (called esophageal dysphagia).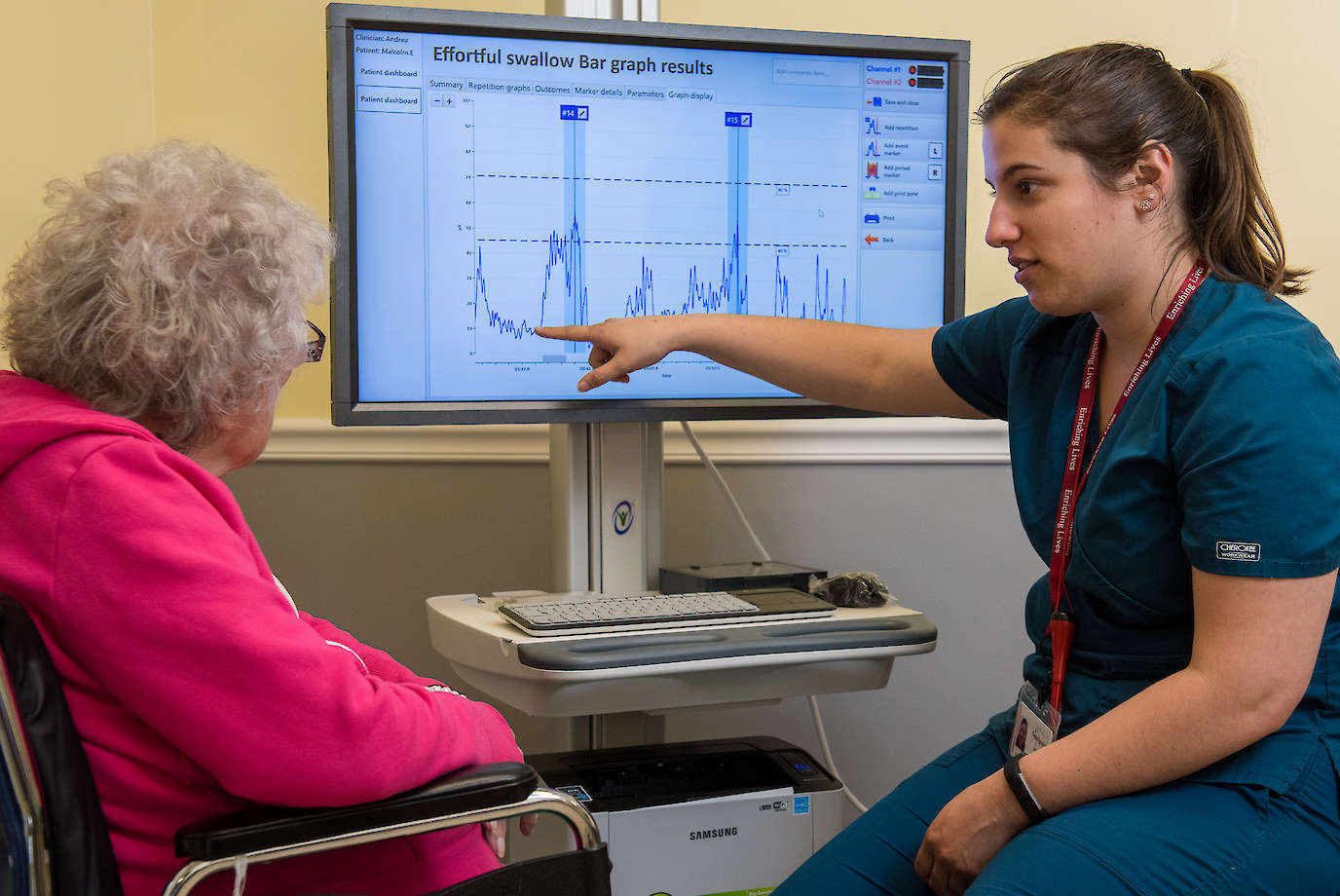 How Does Synchrony Work?
Fresh River Healthcare is using the world's first virtual reality sEMG biofeedback system called Synchrony in our Rehabilitation Department for our clients with dysphagia. This innovative rehabilitation technology is a program designed specifically for Speech Pathologist (SLP) to work with clients with a diagnosis of dysphagia. 
Read a Synchrony Patient Outcome
Improving Swallowing Ability Using sEMG and Exercise - Patient Success Story 1
Improving Swallowing Ability Using sEMG and Exercise - Patient Success Story 2 
The program allows the speech pathologist, as well as the client, to visualize the swallow activity on a television screen. The information on the screen then allows the patient and therapist to see the swallow to help guide the client through therapeutic exercises with a series interactive activities that addresses dysfunction typically associated with dysphagia.
Benefits of the Technology and Program
The benefits are visual and auditory feedback, promotion of greater exercise intensity, real time assessment of the swallow time and muscle activity as well as the ability to capture objective date to guide the treatment plan. This program can be used in conjunction with a proprietary non-invasive "Patterned Electric Neuromuscular Stimulation" (PENS) which may help to enhance muscle strength and coordination needed for normal swallowing.  ACP's Synchrony™ dysphagia program has shown to help achieve better outcomes for the treatment of dysphagia through their research and clinical outcomes. 
Learn More
We at Fresh River Healthcare are also seeing wonderful outcomes with our clients with various medical diagnosis that result in swallowing deficits. For more information, please call Fresh River Healthcare at (860) 623-9846.